International News Analysis -- Today
YOUR SOURCE FOR NEWS AND ANALYSIS SINCE 1996
International News Analysis
POLL: RUSSIANS SEE DEMOCRACY WITHOUT OPPOSITION
But Communist Party Out Raises All Other Political Groups -- Even Ruling Party
November 15, 2013
By Toby Westerman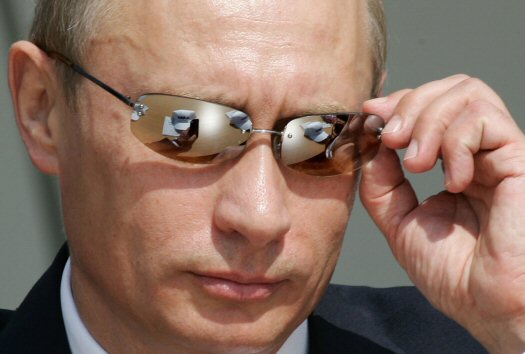 Democracy in the "new" Russia: almost half of Russians surveyed in a recent political opinion poll believe that their nation is able to get along without an opposition to the current ruling party.
The survey was reported by the Russian news agency RIA Novosti.
In a survey conducted in September 2013 by the All-Russian Public Opinion Research Center (VTsIOM), 42% believe that, if the social, political, and economic system is "normal," then a political opposition is not necessary.
The growing immigration problem in Russia may be having an effect upon the Russian populace. Eight years ago, in response to a similar question, 48% saw no need for a political opposition if the situation in the nation was "normal."
Rather than taking power itself, a majority of Russians (50%) believe that the political opposition exists to point out to the ruling elite its mistakes and aid the elite in the work of governing.
A quote from Russian president Vladimir Putin came at the end of the article and is applied to the survey findings. "It is necessary to remember," Putin stated," that nations and whole regions do not live by a social template, by the American or European democratic template," but that other countries live by "other traditions."
The article's author, Michail Rostovsky, associates the weakness of opposition support to an absence of "concrete" and "positive" suggestions. If such a party appeared, speculates Rostovsky, then this political group would obtain "popularity, respect, and trust."
As this survey was being conducted, the Communist Party of the Russian Federation was raising more money than all other political parties in Russia, including the ruling United Russia. The Communist Party has made headlines winning two district elections and improving its position in several others.
There has been speculation that the Communists could continue to improve its electoral position and possibly come to power leading a Far-Left coalition.
No doubt the ruling elite will determine what situation is "normal" and will manipulate what political group is worthy of "popularity, respect, and trust."
Our Lady of Fatima, pray for us.
Mr. Westerman is the editor/publisher of International News Analysis Today (www.inatoday.com.).
---
International News Analysis
(Copyright 2013)
Return to INA TODAY.com homepage